The Black Sox have undergone a comprehensive review and set about planning for the World Championships on Auckland's North Shore in 2013 following the disappointment of last year's loss to Australia in the final at Saskatoon.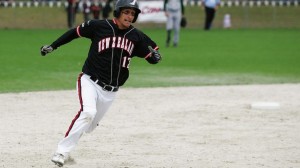 With changes in management, a new captain at the helm and a changing of the guard in the playing ranks, coach Eddie Kohlhase is under no illusions about the challenges the team faces.
"Losing to the Aussies was an ordinary experience but it made us address several issues we had within the Black Sox.
"We have done that and will continue to do that including working on several aspects of our game including our pitching."
He has named an extended squad to take part in a training camp at the Millennium Institute of Sport and Health on the North Shore. Kohlhase believes the naming of Rhys Casley as captain will have a positive impact.
"It was a big call to tell our leader Jarrad Martin that he would have to step down as captain, but I'm delighted with the way Rhys has gone about his work," Kohlhase said.
After the camp the extended squad will be trimmed to 17 players for the tour to Australia in December.
The Black Sox will play the world champions Australia in a nine-test series in Canberra.
Related posts: