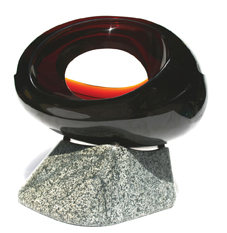 The Lake House Art Centre, Fred Thomas Drive, Takapuna, has a couple of great exhibitions on this month, which are well worth checking out.
"Sphere" is in the Main Gallery from Tuesday 6th of July to Sunday 25th of July
Sphere is a group exhibition featuring glass artists Francis Hanson, Lou Pendergrast, John Hanson and painter Lind Gair responding to the theme of "sphere".

Also, New Paintings by Cynthia McKenzie are up in the Cafe Gallery.
The Lake House Art Centre  is open 10.00am to 4.00pm on weekdays, 10.00am to 3.00pm on weekends, and is closed on public holidays.

For more information call 486 4877, email manager@lakehousearts.org.nz or visit http://www.lakehousearts.org.nz.
Related posts: